History
STNJ's Renowned Architect Thomas W. Lamb
Posted on 03/21/2021
As we celebrate the 100th anniversary of State Theatre New Jersey, we're looking back to the individuals who built the historic theatre in 1921—including its architect, Thomas White Lamb.
One of the most prolific and well-known theatre architects of his time, Thomas Lamb designed at least 48 theatres in New York City alone and hundreds more worldwide—from Britain and Egypt to Australia and India. His designs became the archetype of the early 20th century movie theatre, influencing the development of thousands of theatres across the country.
Born in Scotland in 1871, Lamb emigrated to the United States as a child. At the turn of the century, he studied architecture at the Cooper Union in New York, and opened his own firm, Thomas W. Lamb, Inc.
Lamb launched his career in architecture just as the silent film and vaudeville industry was coming into its own. In the industry's early years, silent films were shown at crowded, unassuming "nickelodeons."
But Lamb specialized in designing a new kind of theatre venue—the "movie palace," an ornate space dedicated to showing the latest in silent film. With lavish interiors and ample seating, these new movie palaces heightened the glamour of film. They projected the films on larger screens and employed full orchestras to accompany them. The movie palace ultimately offered Americans not simply a film screening but rather an afternoon's experience and opulence. By 1916, 21,000 movie palaces had been built across the country. Many were influenced by Lamb's designs for theatres in New York City, including the Mark Strand Theatre (1914), the Rialto Theatre (1916) and the Rivoli Theatre (1917).
When Lamb designed State Theatre New Jersey—known then as Reade's State Theatre—in 1921, it was the largest theatre in the state. Later in the decade, he also redesigned the RKO Rivoli Theatre in New Brunswick and the Oxford Theatre in Plainfield. In 1939, Lamb returned to New Brunswick to consult on a series of further renovations to State Theatre (then operated by Radio-Keith-Orpheum as RKO State Theatre), including changes to the seating arrangement and the introduction of new heating and air filtration systems.
Oxford Theatre in Plainfield
Many of the original movie palaces designed by Lamb have since been demolished or repurposed. In New York City, only one of Lamb's Broadway theatres remains in operation—the Cort Theatre at West 48th Street, built in 1912. The Shubert Organization, a major theatre chain, recently announced a series of renovations and expansions to the historic theatre, including restoration of the theatre's original proscenium arch.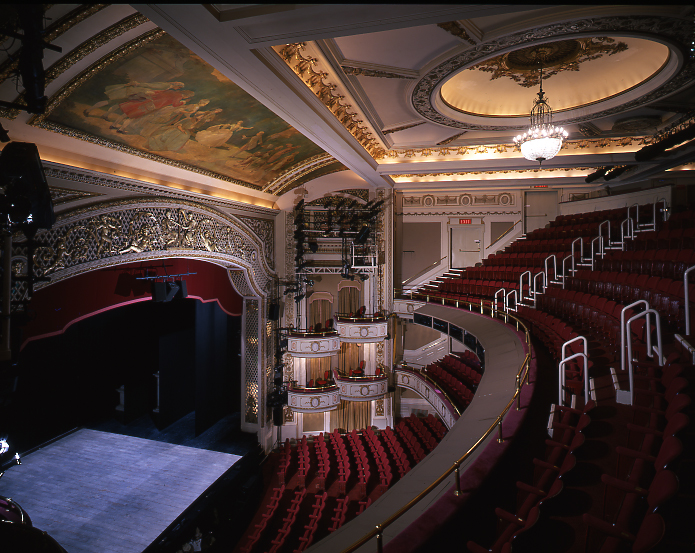 Cort Theatre in New York City
At STNJ, we've launched the Next Stage campaign to undertake our own series of renovations to the theatre. By improving patron accessibility and stage operations, we plan to ensure that this historic example of 20th century architecture will stand the test of time. Learn more about the Next Stage campaign »
By Catherine Babikian