Traditional Country Reviving Center Presents
Shen Yun
China Before Communism
Experience China before communism
Shen Yun takes you on an extraordinary journey through China's 5,000 years of divinely inspired culture.
Exquisite beauty from the heavens, profound wisdom from dynasties past, timeless legends, and ethnic traditions all spring to life through classical Chinese dance, enchanting live orchestral music, authentic costumes, and patented interactive backdrops. Revisit a time when scholars and artists sought harmony with the Tao, or the "Way" of the universe, and when divine beings walked upon the earth to inspire humanity.
Join us for a night filled with beauty and wisdom, courage and hope...Experience Shen Yun!
"5,000 years of Chinese music and dance in one night!" — The New York Times
"Entertainment of the highest order... An exemplary display of excellence." —Stage Whispers
"Five stars! I have reviewed about 4,000 shows since 1942, none can compare to what I saw tonight." —Richard Connema, theater critic
"There is a massive power in this that can embrace the world. It brings great hope… It is truly a touch of heaven." —Daniel Herman, former Minister of Culture of the Czech Republic
"Really out of this world! There is no word to describe it... If I had to, the words might be 'divine,' 'reborn' and 'hope'... You have to see it to believe it." —Christine Walevska, Master Cellist
"I encourage everyone to see it and all of us to learn from it." —Donna Karan, founder of DKNY
"Go see it to believe it, because otherwise, you are going to miss the most important thing in your life." —Joe Heard, former white house photographer
"A must-see!" —Broadway World
We offer a variety of services to improve your visit and ensure your accessibility needs are fully met. Learn More.
This is a rental event. State Theatre New Jersey group and other discounts do not apply.
Children 11 months or younger must have an Infant Lap Voucher. If your child will have reached his or her first birthday by the date of the performance, he or she must have a paid ticket. Infant Vouchers are free of charge and must be ordered by calling 732-246-7469 or visiting Guest Services. Infant Vouchers are not available online.
Policies, programs, artists, dates, times, and prices are subject to change without notice. Additional fees may apply. All sales are final, there are no refunds unless the event is cancelled. Refunds are only made to the original purchaser. Learn more about State Theatre policies.
You May Also Enjoy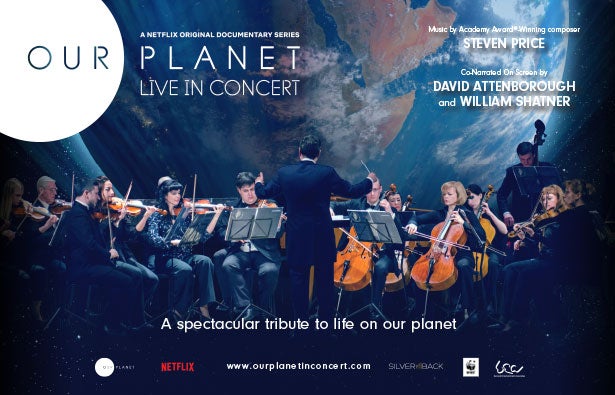 A Spectacular Tribute to Life on Our Planet