Share Your Story
On December 26, 2021, State Theatre New Jersey celebrated its 100th anniversary. As one of New Brunswick's greatest historic landmarks, we wanted to honor the thousands of memories that were created here over the years.
We will continue this tradition of gathering stories every season and you can share your own story by submitting it using the form below. You can also upload photos—and you might see your story featured on our social media channels!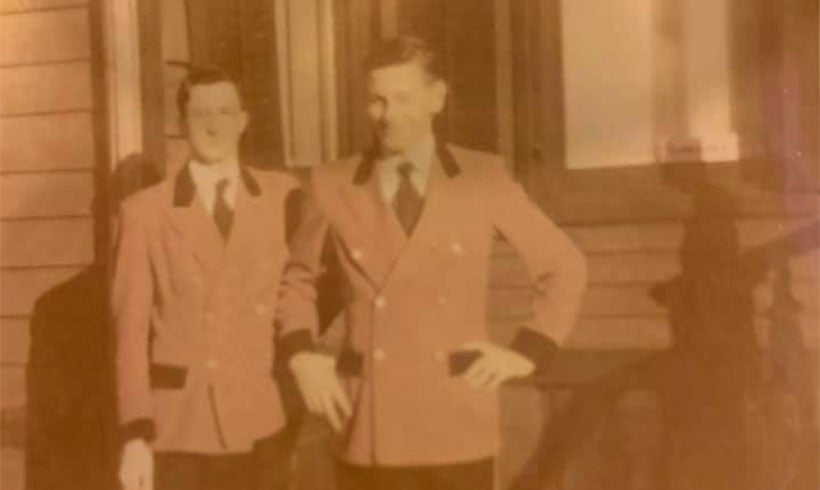 State Theatre Usher In 1948
—Stephen John Melchiskey
I was very proud to be an usher at the RKO State Theatre in 1948, when I was 16-years-old. It was the dawn of television, and the era represented a great change in our society. Before people had TVs, they went to the movies with much more regularity. And going to the movies was a big thing, back then! Everyone dressed up, and the young men who were ushers did too, wearing black pants with red stripes on the sides, and red jackets. We wore a white cardboard dickie instead of a dress shirt, as well as a collar and a tie. I remember that in the summer, when it was hot, the dickies would get wet from perspiration and we had to change them in the ushers' dressing rooms, which were located behind the screen.
It was always a packed house. Movable stanchions with ropes, which we called "tapes," were set up for the people waiting to get into the theater. People lined up behind the tapes waiting for one showing (usually a double feature) to end so they could go in for the next showing. One of my most impressive jobs was to go into the lobby and announce to those waiting, "There's a 15-minute wait for seats!" When 3-D movies came, we passed out 3-D glasses.
I am 89-years-old now and live in Maine, but I hope to come back to NJ soon to visit my sister, who still lives there. I would love to see the State Theatre again.
A Soprano Star
—Rebecca Wagner
On April 6, 2002, when my little sister Jillian was 11-years-old and I was 13, we saw the incomparable Kristin Chenoweth at State Theatre New Jersey. Nearly 20 years later, I am working on the Next Stage Campaign as the theater prepares for its 100th Anniversary! On seeing Kristin Chenoweth perform at State Theatre, Jillian said, "Before that concert, I thought the only dramatic roles for sopranos were to sing love songs and kiss the guy in the finale. After seeing Kristin's one-woman show, where she told stories, sang some of the funniest songs I'd ever heard, and joked around with the audience, I realized that sopranos could be so much more. Kristin was absolutely amazing and has been an inspiration to me since!"
Rocky Horror Nights
—Josh Bellan
I have been working for the State Theatre for about 10 years. Started out as an usher, then became head usher and now I am one of the Assistant House Managers. I have loved my time working at the State Theatre and my absolute favorite show to work each year is The Rocky Horror Picture Show. Rocky Horror is just so much fun to work each year and to see the audience come dressed up and to be in the theater watching their reactions to the movie is one of my favorite things. I like to plan in advance what my 'look' will be. For about two years, I did a Crow/Alice Cooper look and one of those years I added some steampunk elements to my outfit (see photo). I've also done a Pennywise inspired look and I do have something in mind for (hopefully) this year (look up Darby Allin).
Penn Jillette Is A Big Fan Of The Monkees
On Oct. 27, 2016, when Penn Jillette of Penn & Teller was here for a performance, he shared with us his story of coming to the State Theatre to see the Monkees. Here is his story: "I came to see the Monkees here at the State Theatre in [New] Jersey. Flew in 'specially just to see 'em. My buddy 'Nez,' Mike Nesmith of the Monkees, was playing with them, and that's a rare thing. And that was while Davy was still alive. Beautiful sound, beautiful show, and I rode back to Manhattan with Mike Nesmith in the car. It was a wonderful night." —Penn Jillette
Photo of Penn and Mike Nesmith from Penn's Twitter account from 2018.
My Father's Love Of Music
—Ben Del Vento
My father, Canio Del Vento, came to the U.S. from Italy in 1921, when he was 16, and wanted to be an opera singer. He had started singing at church at the age of six. One hundred years ago, he got on a boat in Naples with 25 cents and eight chestnuts in his pocket, and he ate one chestnut each day for sustenance before landing at Ellis Island. He needed to make a living in America, so he became a barber. Upon request, he sang for his clients while he cut their hair, and he also sang on the radio occasionally!
My father's love of music has been passed down through generations. I played the violin at Orange High School before going to Rutgers, and I even played at Carnegie Hall! My family made a little picture book for me called, "Who's that with Ben Del Vento?" As State Theatre donors, we've enjoyed meeting many performers there, including Renée Fleming and Tony Bennett in 2019. Now, I am 82 years old. My wife Marie, who is a Douglass grad, and I come to New Brunswick because it's close to our house. State Theatre New Jersey serves a great purpose. We love all the shows, and it's only 30 minutes away—you can't beat that, can you?!
Pictured above: Ben and Marie Del Vento in the State Theatre New Jersey green room with Renée Fleming on February 27, 2019.
Through Good Times And Bad, And Good Again
—Micky Landis
I am proud to say that I am now in my seventh decade of involvement with the State Theatre. In the 1960s, I remember paying only 25 cents to see a movie, and I was always wowed by the experience. I will never forget coming back to State Theatre in 1975 to see a closed-circuit presentation of Muhammad Ali fighting Joe Frazier. Not only was the "Thrilla from Manila" memorable, but even more so was my profound disappointment in seeing how the once glorious movie palace had fallen into such a state of disrepair. I'm sure that there was a discussion of tearing the building down at that time. In the 1990s, I was a part of around 20 enthusiastic young adults volunteering to raise awareness of STNJ, organize events like foot races, and raise money for renovations. Most recently, as a member of the Next Stage Campaign Committee, I am thrilled to be able to help State Theatre achieve this important round of renovations. It was with great pride that I spoke with my dear friend Betty Wold Johnson about the project, and I am so happy that she was able to contribute generously before she passed away last year.
Pictured from left: Micky Landis, Betty Wold Johnson, and Bob Campbell
Hats Off To Patti Lupone
—Ann Marie Briscese

One of my fondest memories of having been a patron of the State Theatre was when Patti LuPone performed on stage. She was and is a luminous star. No matter where you sat in the theater, she reached out to you. She is a phenomenal performer. Hopefully, she'll be back again soon. It will be a wonderful thing to see her again in person at the State Theatre, once COVID 19 is no longer among us.
Meeting Tony Bennett
—Jeff Auger
Having been a supporting photographer for the State Theatre for many years, I have been fortunate to have been able to capture some truly amazing shows. Many times I have to remind myself to peek out from behind the camera to fully appreciate everything what is going on around me. There are shows I may not have chosen to see and then was blown away by what I saw. There have been shows that just reminded you of music from past generations that just never gets old. Then there are the moments that you have to pause and say to yourself….WOW! When I read that the legend himself, Tony Bennett, was going to be performing and that I was going to get the chance to photograph him…that was definitely one of those moments. After an incredible show of just taking over the theater and mesmerizing the audience I went backstage for a quick meet and greet with some of the theater's staff and donors. Standing in the green room feeling a little nervous because it's….TONY BENNETT. As the donors and staff gathered, Tony entered the room with that smile we have all become accustomed to seeing. One by one introductions were made and handshakes exchanged. In moments like this, I try to blend into the background and let those in the room enjoy the moment. But just at that moment, Mr. Bennett made his way through the group and reached out to me and said, "I just want to make sure I say hello to the photographer." It was a brief moment but such a classy gesture from one of the true legends of our time. So many highlights during my time at STNJ but that certainly will be one that always stands out above the rest. Photo © Jeffrey Auger
The Smothers Brothers
—Frankie Busch

The Busch family has been attending events at the State Theatre for over 70 years. Born in New Brunswick, my husband Mark Busch saw films like South Pacific at the theater in the '50s. Later, as a married couple, we attended classical music concerts and many more evenings of memorable performances. For 17 years, the Smart Talk series presented more than 85 remarkable women who led unique lives to largely female, sold-out, and chattering audiences. The Education Department offers fantastic theater experiences to New Jersey school students from around the state. We loved meeting Benefit Gala celebrities in the Green Room after their standing ovations. In March 1996, the Smothers Brothers brought laughter and witty songs to 1700 people. The majority of the crowd wore tuxedos and evening dresses to the theater and to the Hyatt Regency dinner-dance after the show. We are proud and grateful that our community supports a nationally-ranked, known and respected cultural institution in our own backyard.
Thank you for supporting State Theatre New Jersey's Share Your Story. You agree that your submission is subject to the following terms and conditions:
At the time of your submission you must be 18 years of age or older. Your submission must be created by you, wholly original, except that: you may include images that are in the public domain.
You retain ownership in your submission, but by making a submission you give the State Theatre, and those authorized by the State Theatre, your irrevocable perpetual permission to disseminate, modify, and use your submission, in whole or in part, in all media now known or later developed, for standard purposes. This permission includes publication in communication channels (websites, social media, print and online publications, newsletters, posters), publicity and promotions, fundraising, educational programming and publications, and exhibitions.
Do not submit anything that is commercial, off-topic, partisan-political, contains personal attacks or expletives, or is otherwise abusive, threatening, unlawful, harassing, discriminatory, libelous, obscene, false, pornographic, or that infringes the rights of any third party. Once you make a submission, the State Theatre reviews it for compliance with these rules. The State Theatre may, but is not obliged to, edit submissions for grammar, spelling, and/or profanity. The State Theatre is under no obligation to keep, post, or use any submission.
By making a submission, you waive any privacy expectations you may have with regard to your submission. If the State Theatre selects your submission for inclusion on its website and social media channels, the State Theatre will make the submission, in whole or part, available to the general public. The public may use/share the content and commentary with which you disagree may become associated with your submission.
You are solely responsible for your submission and any consequences of submitting it. The State Theatre shall not be responsible or liable for any breach of these terms and conditions by you, claims by a third party that your submission violates the third party's rights, or claims by you that a third party is misusing your submission.
If you have questions about any aspect of these terms and conditions, you may email info@stnj.org.