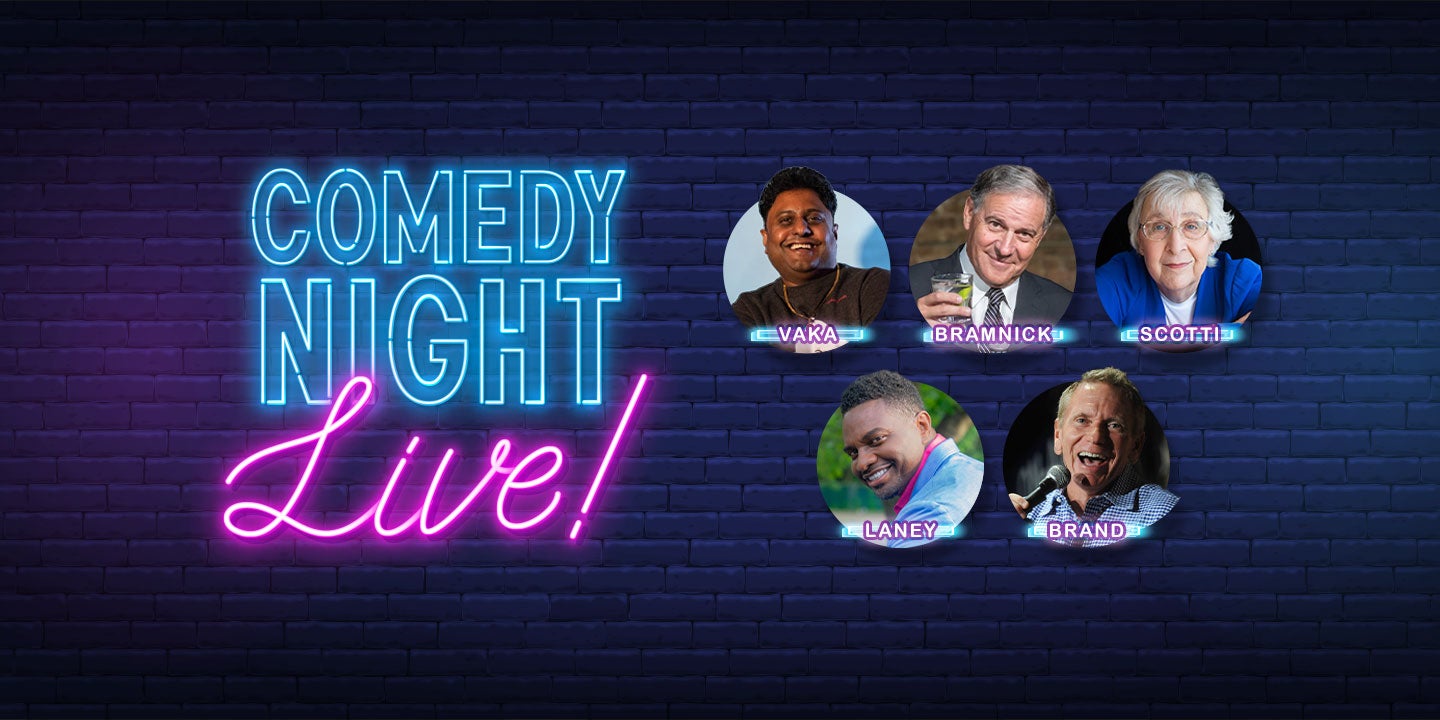 Five Comedians—One Night of Laughs
Comedy Night Live!
Featuring Vishnu Vaka, Jon Bramnick, Julia Scotti, Rodney Laney, and Vinnie Brand
Date

Saturday,

Apr

22

, 2023

Event Starts

8:00 PM

Venue

State Theatre New Jersey

Availability

On Sale Now
Enjoy an evening of comedy at State Theatre New Jersey with five hilarious comedians including Vishnu Vaka, Jon Bramnick, Julia Scotti, Rodney Laney, and emcee, Vinnie Brand!
About the Comedians
Vishnu Vaka is an up-and-coming comic performing all over NY and NJ. Originally from India, he went through 14 schools by the time he hit 5th grade. He moved to the U.S. as a teenager, and he loves it. He got fat and became an American citizen—in that order. Vaka is doing his part by being the best comedian on the land. He believes people who take themselves seriously are nincompoops. Recently toured with Russel Peters.
Jon Bramnick is the funniest lawyer in NJ. He has headlined clubs throughout the North East and recently returned from sold out engagements in Florida. Bramnick is modest or this bio would be very long.
Julia Scotti is a remarkably busy lady. In addition to performing standup coast to coast, you have seen her on America's Got Talent, the Today Show with Hoda and Jenna, and on the Showtime special More Funny Women of a Certain Age. Susan Sandler's acclaimed documentary Julia Scotti: Funny that Way now streaming. Her latest comedy album Primal Cuts and her Dry Bar Comedy Special Jersey Fresh are out now while her first album Hello Boys, I'm Back! is still climbing and available for download. She is the current host of the podcast Comedy Centric. You can see Scotti starring as Joy in the short film drama Relatable Joy and in the Judd Apatow film Bros, starring Billy Eichner.

Rodney Laney's first book Lighten Up is available now. Laney has completed pilots for Comedy Central, MTV, and A&E. He has been seen on HBO®, FOX News Channel's Red Eye, The Late Late Show on CBS, Comedy Central's Premium Blend, comedy.tv on the HD channel, two appearances on Gotham Comedy Live AXSTV, and Live in Gotham VR. He has appeared at the prestigious Just for Laughs Comedy Festival Montreal and LOL Lounge TBS Presents A Very Funny Festival: Just for Laughs Chicago. His first CD I Blame The Publik Skool System was released by Comedy Dynamics.

Vinnie Brand is an American stand-up comedian from Middletown, NJ. He is best known for being the club owner of The Stress Factory Comedy Clubs in New Brunswick, NJ and Bridgeport, CT. He has appeared on Last Comic Standing, the Jim & Sam show, the Bennington show, Comedy Central, Montreal Just For Laughs Festival, TED Talk, CT's 99.1 WPLR's Chaz and AJ In the Morning, Preston and Steve Show, John DeBella Show, NJ 101.5 with Bill Spadea, and on the best stages in NYC and Los Angeles. His recently released comedy special, RIP Fat Bobby, debuted on March 1 of this year.